Name: Dream Weaver
Rank: LT Commander
Faction: Decepticon
Size: Deluxe
Strength: 8
Speed: 10
Intelligence: 8
Endurance: 7
Courage: 8
Skill: 9
Attack: 10
Defense: 8
Function: Weapons Expert, Special Ops
Age: 12,000
Appearance:
Alternate Mode:
Mini-con: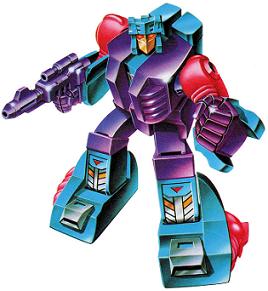 Name: Venom
Alt Form: Jaguar
Weapons:
-Two Thermo Energy Short Swords that come out of each hand.
-Transformable Arm Blaster, with rapid fire, on the right arm.
-Energon Energy Whip (Tail in alternate form)
-Medium Blaster, left hand.
-Blaster with Acid Pellets attachment.
Abilities:
-Able to reach the speed of light, requires lots of energy.(Special)
-Collision Armor
-Energon Shield
-Target Master
Background info:
Dream Weaver was created 12,000 years ago on their home planet of Cybertron. She was created to be one of Dive Bombs toughest warrior and to perform tasks for him, to lead or to execute any Transformer that stood in his way. A very loyal and dedicated Decepticon to Dive Bomb. She got his respect by fighting along side him on Cybertron while fighting Autobots. Fought along side of him against the wounded Decepticons Megatron and Starscream. Also fought along side him on Earth, destroying the strong Autobots under the command of Optimus Prime. Has fought relentlessly against the hated Autobots, her hatred for them matches her leader. Is extremely loyal to her leader and will carry out any task he asks. she continues to fight, on the search for new technology that will bring down the Autobots. She travels from planet to planet where she hears info that there might be either Autobots of the technology to destroy them somewhere on each planet.
She, with her leader, now takes up their main headquarters on earth, in suspect that more Autobots will try and join their allies, to which they can surprise and kill more and more.
Last edited by Dream Weaver on 6/12/2010, 11:38 pm; edited 10 times in total

Dream Weaver

Decepticon Commander





Posts

: 150


Join date

: 2010-04-30


Location

: Killing Autobots



approved but if you could under your alternate modes place the picture in the bio not the link cause some people won't be able to access it...it helps if you have photobucket or photoshop...photobucket is free to join but limited to image details unless you pay for it. Also in your bio I'm not shadow bomb...its dive bomb as theat name was just a temp one till i thought of a better one
_________________
Those that oppose the Decepticons will be melted down into scrap.  The honor of doing that will be mine.

Dream Weaver

Decepticon Commander





Posts

: 150


Join date

: 2010-04-30


Location

: Killing Autobots





Similar topics
---
Permissions in this forum:
You
cannot
reply to topics in this forum